Dec 12, 2022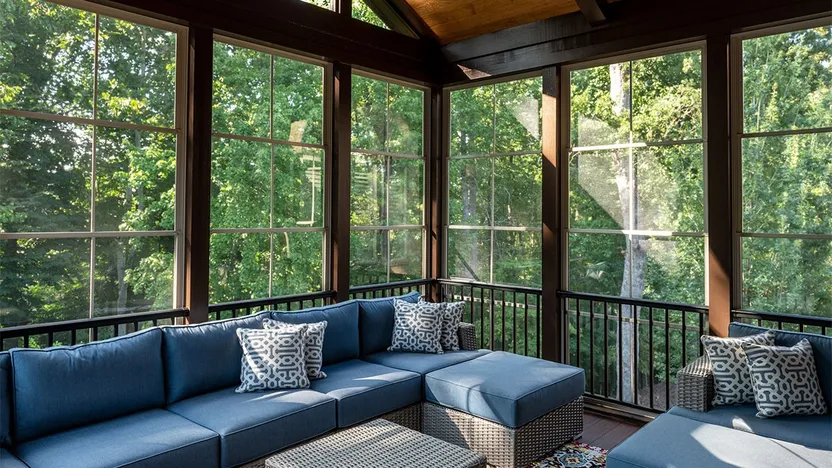 So you've decided to take a breather from the homebuying process until mortgage rates or home prices are a bit more wallet-friendly.
But you're still faced with the situation that motivated your home search: Your house is bursting at the seams, and you need more space.
Well, hang tight. We've got affordable ideas for reimagining what you already have, so you can add storage and living space while you wait to upsize.
Look at awkward spaces as opportunities
"Use your awkward space to your benefit," says Kelsey Fischer, lead designer for Havenly. "A space next to the stairs can be an office, a reading area, or a play zone."
For the dead space at the top of the landing, add a window seat or a low-profile armoire for additional storage.
And speaking of staircases, there's a lot of underused space beneath them where you can carve out a pet hideaway, play nook, or even a built-in minibar with liquor and wine storage.
Reimagine a holidays-only dining room
Does your formal dining room lie dormant until Easter, Thanksgiving, and Christmas? Maybe the occasional birthday? Then it's time to break some house rules, and use the dining room for a more functional purpose.
"If you can eat somewhere else in your home—like your kitchen table or bar stools around an island—take over what was your dining room and transform it into whatever space works for you and your family," says Fischer.
Take advantage of high ceilings
Do you have high ceilings? Then look up to create more floor space.
"Create living space by building an additional room or loftlike area in the free space," suggests Randy Smith, president of The Handyman Company in Tampa, FL.
This option isn't the cheapest. But you'll gain valuable square footage, which is always a plus when it's time to sell your house.
Create a basement playroom
You don't have to nail your big toe with yet another Lego brick while waiting to buy your next house.
"One of the things that can make living spaces feel cramped is having kids' toys all over your main living space," says Fischer.
Instead, create a kid zone by freshening up your unfinished basement on the cheap.
And hey—you could likely use a little breathing room, too. So carve out some grown-up space for yoga or crafting.
Claim your home to stay up-to-date of your home's value and equity.Claim home
Capitalize on vertical space
Are your closet and cabinet spaces maxed out? Take advantage of unused vertical space in your home, advises Fischer.
Build cabinets between stud walls in the bathroom, laundry room, and entryway. Or use the space behind interior doors to carve out slim built-in shelves. They free up floor space and cut down on clutter.
And you don't have to hide everything. Use store-bought bookcases and cabinets to create a stylish built-in look or workspace on a big, blank wall.
Minimize your office
"We often think we need a whole room to create a productive office," says Fischer. "In reality, what many of us have discovered in the past few years is that we can work at home in a much more functional way that requires less space."
So move your computer from a space-hogging desk to a smaller one in an unused corner. You might find chucking the oversized desk empties out an entire room for a multitude of purposes.
Consider a bump-out
A bump-out is an expansion of an already existing space but is smaller (and cheaper) than adding an entire room.
"A common example is converting a powder room into a full bath with a shower and tub for a growing family," says Smith.
A bump-out is a good option for expanding the kitchen to create an eating nook (freeing up the dining room) or for enlarging the laundry or mudroom. A bump-out can change the exterior footprint and aesthetics, so keep that in mind as you draw up plans.
Enclose a porch
A front, back, or side porch can be a great place to escape the cramped living space inside.
But if you live in a climate where temperatures dip in the fall and winter, that coveted space is strictly seasonal. So why not hang onto that extra space by enclosing it for year-round use?
"You can easily convert a porch into a sunroom," says Rob Kittle, a broker at Kittle Real Estate in Ft. Collins, CO.
Need more inspiration?
"Hire a local interior designer with a focus on space planning," says Kittle. "They can make the home flow more efficiently or see something valuable you've overlooked."